Human peripheral blood regulatory T cells (Tregs) are a subpopulation of T cells that play an important role in maintaining self-tolerance in the adaptive immune system by suppressing potentially deleterious activities of CD4+ helper T cells, which, if not regulated, can cause a variety of autoimmune disorders.
Peripheral Blood CD4+CD25+ Tregs are enriched in a two-step process. First, cells expressing CD8, CD14, CD16, CD19, CD20, CD36, CD56, CD66b, CD123, TCRγ/δ, and CD235a are depleted from the peripheral blood mononuclear cell population using immunomagnetic particles leaving purified, untouched CD4+ T cells. Then, enriched CD4+ T cells are selected for CD25+ cells by positive selection using antiCD25 immunomagnetic particles allowing for the enrichment of CD4+CD25+ regulatory T cells. Isolated cells are characterized by flow cytometry to ensure a highly pure and viable cell population.
Cells were obtained using Institutional Review Board (IRB) approved consent forms and protocols.
Product Specification
≥95% by Flow Cytometry

Note: For cryopreserved samples the freeze thaw cycle may decrease cell viability by 10-15% post thaw.

Fresh: PBS with 5% FBS and 0.5% BSA

Frozen:

CryoStor

™ CS10 (10% DMSO)
Flow Data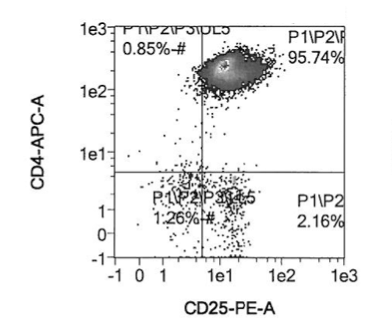 Figure 1. Representative flow data of peripheral blood enriched CD4+CD25+ Tregs prior to cryopreservation.