Human peripheral blood CD8+ cytotoxic T cells, also known as cytotoxic T lymphocytes, defend the body against intracellular pathogens, such as viruses and bacteria, as well as cancerous cells. CD8+ T cells distinguish infected or diseased cells from healthy cells by recognizing antigens presented by MHC class I molecules located on the surface of the inflicted cells. Once the CD8 T cells recognize a specific antigen it releases cytotoxins that result in apoptosis of the infected or diseased cell.
Human CD8+ cytotoxic T cells are isolated from peripheral blood mononuclear cells by depleting cells expressing CD4, CD14, CD16, CD19, CD20, CD36, CD56, CD66b, CD123, TCRγ/δ, and CD235a using immunomagnetic particles leaving purified, untouched CD8+ cytotoxic T cells. Isolated cells are characterized by flow cytometry to ensure a highly pure and viable cell population.
Cells were obtained using Institutional Review Board (IRB) approved consent forms and protocols.
Product Specification
≥95% by Flow Cytometry

Note: For cryopreserved samples the freeze thaw cycle may decrease cell viability by 10-15% post thaw.

Fresh: PBS with 5% FBS and 0.5% BSA

Frozen:

CryoStor

™ CS10 (10% DMSO)
Flow Data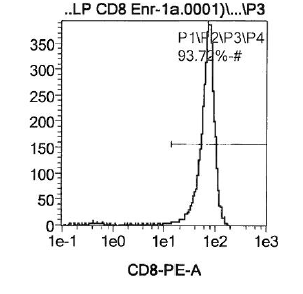 Figure 1. Representative histogram of peripheral blood enriched CD8+ cytotoxic T cells (93.72%).