CD4+ helper T cells express the CD4 co-receptor and play an important role in the adaptive immune system by assisting other white blood cells. These cells are activated when they are presented an antigen on the MHC class II molecule of an antigen presenting cell (APC). Once activated, CD4+ helper T cells secrete lymphokines that assist in the activation of B cells to secrete antibodies that target specific microbes and assist in the activation of cytotoxic T cells to destroy infected target cells.
Human peripheral blood CD4+ helper T cells are enriched by means of negative selection. Cells expressing CD8, CD14, CD16, CD19, CD20, CD36, CD56, CD66b, CD123, TCRγ/δ, and CD235a are depleted from the mononuclear cell population using immunomagnetic particles leaving purified, untouched CD4+ helper T cells. Isolated cells are characterized by flow cytometry to ensure a highly pure and viable cell population.
Cells were obtained using Institutional Review Board (IRB) approved consent forms and protocols.
PB04010C

PB04015C

10 million/vial

15 million/vial
Product Specification
≥95% by Flow Cytometry

Note: For cryopreserved samples the freeze thaw cycle may decrease cell viability by 10-15% post thaw.

Fresh: PBS with 5% FBS and 0.5% BSA

Frozen:

CryoStor

™ CS10 (10% DMSO)
Flow Data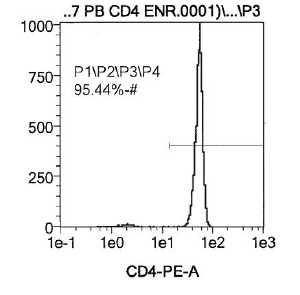 Figure 1. Representative histogram of enriched CD4+ helper T cells from peripheral blood prior to cryopreservation.