Peripheral blood CD14+ monocytes originate in the bone marrow and move via the bloodstream to infected or damaged peripheral tissue. Once at the tissue, monocytes differentiate into specific tissue macrophage or dendritic cells. These cells are responsible for phagocytosis of foreign substances in the body and are capable of killing infected host cells via antibody mediated cellular cytotoxicity.
Human CD14+ monocytes are isolated from peripheral blood mononuclear cells by means of negative selection. Cells expressing CD2, CD3, CD16, CD19, CD20, CD56, CD66b, CD123, and CD235a are depleted from the mononuclear cell population using immunomagnetic particles leaving purified, untouched CD14+ monocytes. Isolated cells are characterized by flow cytometry to ensure a highly pure and viable cell population. Positively selected monocytes are also available as a custom order.
Cells were obtained using Institutional Review Board (IRB) approved consent forms and protocols.
Product Specification
≥95% by Flow Cytometry

Note: For cryopreserved samples the freeze thaw cycle may decrease cell viability by 10-15% post thaw.

Fresh: PBS with 5% FBS and 0.5% BSA

Frozen:

CryoStor

™ CS10 (10% DMSO)
Flow Data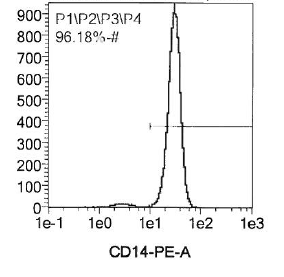 Figure 1. Representative histogram of CD14+ monocytes from peripheral blood prior to cryopreservation.