PBMC(外周血单个核细胞),顾名思义,其主要细胞类型为血液里边具有单个核的细胞,主要包括淋巴细胞(T/B),单核细胞(monocyte),吞噬细胞,树突状细胞(DC),自然杀伤细胞(NK)和其他少量细胞(造血干细胞等)类型。
其中各成分的平均比例如下:
当使用PBMC用于实验时,大部分科学家都倾向于使用Fresh PBMC。但是当您订购的"Fresh" PBMC离体24h或更久时间后是否对于PBMC的活性和功能有影响呢?
结论
经过我们的实验发现,对于PBMC而言,离体之后越快冷冻越能保证其活性及功能。当采购PBMC时,使用当天分离并即刻冷冻的PBMC对实验更为理想。当从静置24h后的Leukopak(模拟运输环境)中分离得到的PBMC,其组分中T细胞和NK细胞含量会发生明显变化,同时对刺激反应弱化。
如果是从全血中提取PBMC,当全血离体一段时间后,再使用Ficoll进行分离,最终得到的细胞层中中性粒细胞含量会明显增高,根据文献报道,这是因为中性粒细胞离体后会被活化,而这会影响中性粒细胞的密度,因而会严重影响密度梯度离心得到PBMC的效率
Materials and Methods
Material
健康个体:HIV,HCV,HBV等均为阴性;
Leukopak:该设备可以采集单组分,如血小板,血浆,粒细胞。约3倍于捐献者血量被处理,每次捐献可收集0.8-1 x10e10的MNC。
在本实验中我们采集了两个个体的Leukopak,并将每个个体的Leukopak分成两份,一份马上进行Ficoll分离并且冷冻,一份静置24h后(模拟运输环境)再进行分离并冷冻。
Whole Blood
Cell Isolation
密度梯度离心(Ficoll是蔗糖的多聚体,呈中性,平均分子量为400,000,未超出正常生理性渗透压,也不穿过生物膜)blood samples are meticulously layered over Ficoll and centrifugedfor 45 minutes at 400g. The PBS medium layer is aspirated off, and the PBMClayer then is carefully pipetted into a fresh tube and washed three times withPBS.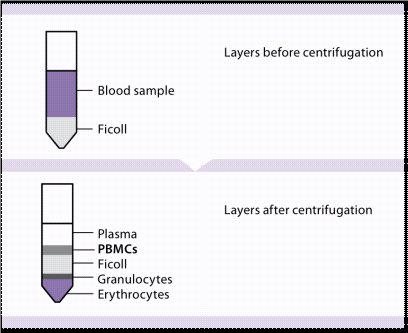 CellViability and Recovery
荧光染色并计数;
冷冻:–1 °C/minute with cryopreservationmedium containing 10% dimethyl sulfoxide (DMSO) and 90% fetal bovine serum(FBS).
LeukocyteCell Subset Frequencies
FACS, the cell subset frequencies wereanalyzed before and after cryopreservation for each isolation condition.
Results
1.当天分离并冷冻的PBMC细胞活性明显较高
Cells that were isolated and cryopreservedthe same day as collection were more viable after thaw than cells that wereisolated and cryopreserved 24 hours after collection. Cells frozen the same dayas collection were 47% more viable (Donor 369) and 94% more viable (Donor 328),respectively.
This decrease in viability is greater thanwe have observed with Leukopaks received after overnight shipping. We performedthe comparison with a third donor and left a portion of cells in the originalcollection bag for delayed isolation. This batch had higher viability afterthaw, comparable to the cells preserved the same day as collection, which maybe due to better gas exchange in the collection bag compared to the cellsstored in tubes overnight.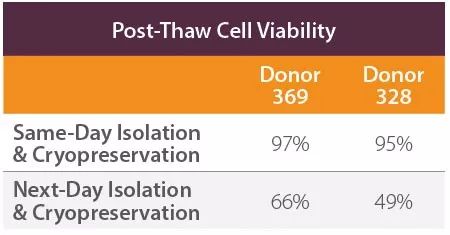 Figure 1. Post-thaw viability of cells isolated and cryopreserved thesame day as collection and 24 hours after collection.
2.样本静置24h后再分离其亚型分布产生明显变化,T
细胞和NK细胞含量下滑严重
When it comes to subset, we found thatdelayed cryopreservation had varied impacts on different cell types. Weanalyzed the cell types present in each batch by FACS after thawing. Dead cellswere excluded from the analysis.
We noticed a decrease in the proportion ofT cells and NK cells when the samples were cryopreserved 24 hours aftercollection instead of the same day. The viability of B cells and monocytes werenot significantly impacted by delayed cryopreservation.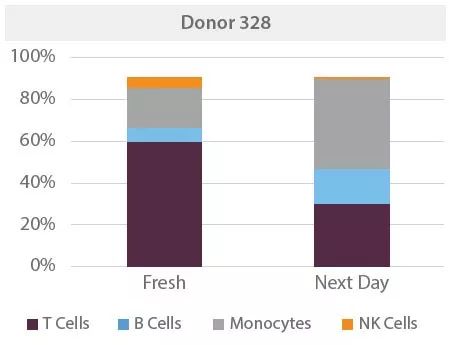 Figure 2. Proportion of cells in the PBMC samples from Donor 328isolated and cryopreserved the day of collection and the day after collection,respectively.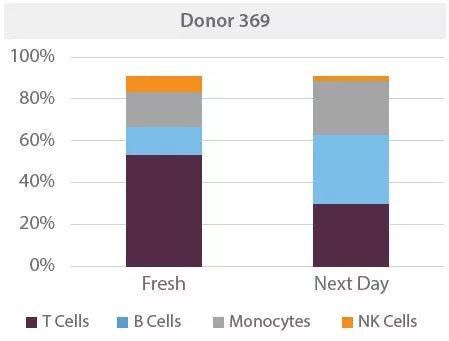 Figure 3. Proportion of cells in the PBMC samples from Donor 369isolated and cryopreserved the day of collection and the day after collection,respectively.
3.采集,分离并即刻冷冻的PBMC细胞的Recall Response更加明显
We tested both cell batches using ourrecall antigen assay to see how cytokine secretion was affected by time ofcryopreservation relative to collection. Before performing the assay, weequalized the number of viable cells in each batch.
Even though equal numbers of viable cellswere used, the recall response was much weaker in cells isolated after 24 hourscompared to cells cryopreserved soon after collection.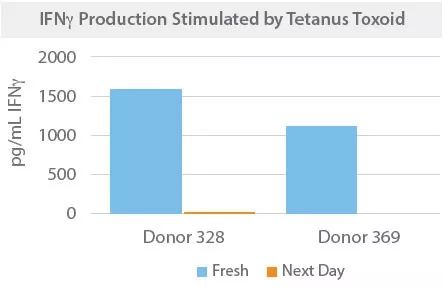 Figure 4. The response to tetanus toxoid is primarily a T cell response.There was no significant IFNγ produced by the cells isolated after 24 hours.
Figure 5. PHA was used to stimulate T cells, showing that there werelive T cells in both samples, though the amount of IFNγ produced by the cellsisolated after 24 hours was much lower.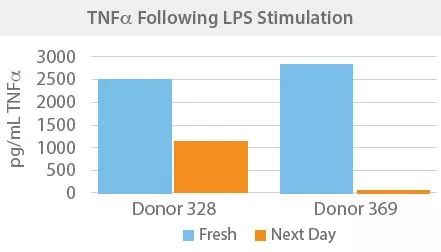 Figure 6. Monocytesrespond to LPS by producing TNFα. While still present and viable in thesamples, the ability of the monocytes to produce TNFα was reduced.
4.离体24h的全血样本分离后中性粒细胞含量明显增高,根据文献报道,中性粒细胞离体后会被活化,这会影响中性粒细胞的密度,因而会严重影响密度梯度离心得到PBMC效率。
Isolating PBMCs from blood stored for 24hours at room temperature with either method led to significantly moregranulocyte contamination. It has been well documented that granulocytes becomeactivated over prolonged storage, which affects their buoyancy profile andcompromises the efficiency of separation by density-gradient isolation.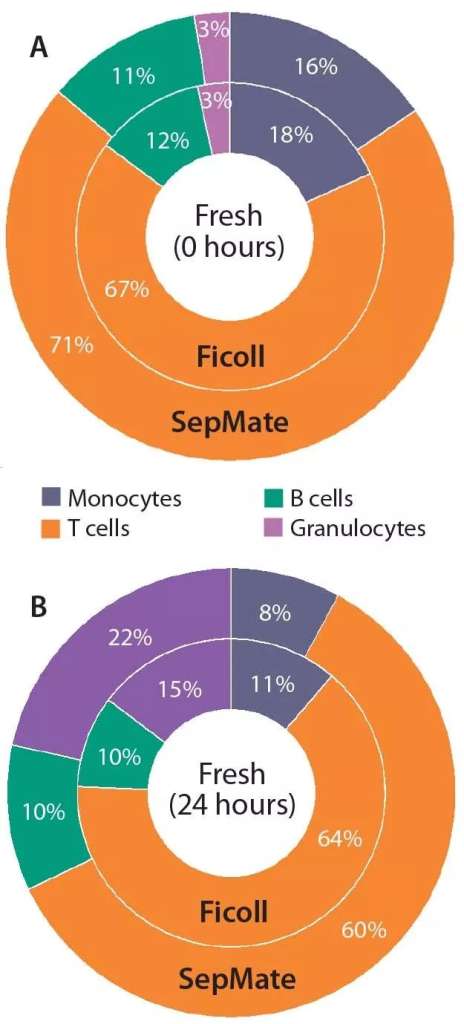 Figure 7: Leukocyte subset frequencies are compared, calculated as apercentage of CD45+cells of PBMCs isolated by Ficoll and SepMate methods asmeasured by flow cytometry.
文献:
1.Maximizing PMBC Recovery and Viability: A Method to Optimize andStreamline Peripheral Blood Mononuclear Cell Isolation, Cryopreservation, andThawing https://bioprocessintl.com/manufacturing/cell-therapies/maximizing-peripheral-blood-mononuclear-cells-recovery-and-viability-a-method-to-optimize-and-streamline-peripheral-blood-mononuclear-cell-isolation-cryopreservation-and-thawing/


2.McKenna KC, et al. Delayed Processing of Blood Increases theFrequency of Activated CD11b+ CD15+ Granulocytes Which Inhibit T Cell Function.J. Immunol. Meth. 341, 2009: 68–75.
3.DeRose R. Granulocyte ContaminationDramatically Inhibits Spot Formation in AIDS Virus–Specific ELISpot Assays:Analysis and Strategies to Ameliorate. J. Immunol. Meth. 297, 2005:177–186.
4.How Fresh Are Your PBMC by Astrobio
我司代理美国StemExpress 血液免疫学产品:www.stemexpress.com
| | |
| --- | --- |
| | |
| | Peripheral Blood Mononuclear Cells, Frozen, 15 million/vial |
| | Peripheral Blood Mononuclear Cells, Frozen, 25 million/vial |
| | Peripheral Blood Mononuclear Cells, Frozen, 50 million/vial |
| | Peripheral Blood Mononuclear Cells, Frozen, 100 million/vial |
| | Peripheral Blood CD3+ Pan T Cells, Frozen, 20 million/vial |
| | Peripheral Blood CD3+ Pan T Cells, Frozen, 30 million/vial |
| | Peripheral Blood CD3+ Pan T Cells, Frozen, 40 million/vial |
| | Peripheral Blood CD4+ Helper T Cells, Frozen, 10 million/vial |
| | Peripheral Blood CD4+ Helper T Cells, Frozen, 15 million/vial |
| | Peripheral Blood CD4+CD25+ Regulatory T cells, Frozen, 2 million/vial |
| | Peripheral Blood CD4+CD45RO+ Memory T Cells, Frozen, 5 million/vial |
| | Peripheral Blood CD4+CD45RA+ Naïve Helper T Cells, Frozen, 5 million/vial |
| | Peripheral Blood CD8+ Cytotoxic T Cells, Frozen, 10 million/vial |
| | Peripheral Blood CD8+CD45RA+ Naïve Cytotoxic T Cells, Frozen, 5 million/vial |
| | Peripheral Blood CD56+ Natural Killer Cells, Frozen, 5 million/vial |
| | Peripheral Blood CD14+ Monocytes, Frozen, 40 million/vial |
| PBMAC001.5C | Peripheral Blood Monocyte-Derived Macrophages, Frozen, 1.5 million/vial |
| | Peripheral Blood Monocyte-Derived Immature Dendritic Cells, Frozen, 1.5 million/vial |
| | Peripheral Blood CD19+ B Cells, Frozen, 10 million/vial |
| | Peripheral Blood CD19+ CD27+ Memory B Cells, Frozen, 0.5 million/vial |
| | Peripheral Blood CD19+ CD27+ Memory B Cells, Frozen, 1 million/vial |
| | Peripheral Blood CD19+ CD27+ Memory B Cells, Frozen, 2 million/vial |
| | Peripheral Blood CD19+CD27- Naïve B Cells, Frozen, 1 million/vial |
| | Peripheral Blood CD19+CD27- Naïve B Cells, Frozen, 2 million/vial |
| | Peripheral Blood Eosinophils, Frozen, 1 million/vial |
| | Peripheral Blood Basophils, Frozen, 0.3 million/vial |
联系我们:
上海儒百生物科技有限公司
网址:www.schbio.com
Email:info @schbio.com
电话:18521561575