The dawn of the recombinant DNA revolution in the 70s and 80s led to the production and engineering of recombinant monoclonal antibodies (sometimes referred to as rAbs). Early efforts in the 80s and 90s focused on the humanization and fragmentation of antibodies. Into the 21st century the appetite to engineer antibodies with a myriad of improved functionalities has continued to grow with the creation of so-called second and third generation antibodies. To date this work has largely been the preserve of the bio-pharmaceutical industry and a small number of industry-focused academic labs. This section of the Absolute Antibody resources aims to summarise some of the efforts in this ever expanding field:
Content
Humanization
Antibody fragments
Fc engineering
Increasing effector functions through Fc engineering
Decreasing effector functions through Fc engineering
Enhancing serum half-life of IgG through Fc engineering
Bispecific
Quadromas
Heterodimeric bispecific antibodies
Bispecific antibody fusions
Bispecific antibody fragments
Multi-specific antibodies
Humanization
The early success of mouse monoclonal antibodies led to the U.S. Food and Drug Administration (FDA) approval of the first therapeutic antibody OKT3 (muromonab) in 1986, as a treatment of kidney transplant rejection. However, most mouse antibodies were shown to have limited use as therapeutic agents because of a short serum half-life, an inability to trigger human effector functions and in particular they were recognised by the patients' immune systems as foreign proteins resulting in a human anti-mouse antibody (HAMA) response.

Figure. Progressive humanization of antibodies.A schematic representation of the advancement from fully mouse antibodies, represented by red domains, to fully human antibodies, represented by blue domains.
In an attempt to reduce the immunogenicity of the mouse antibodies, genetic engineering was used to generate chimeric antibodies containing human constant domains and the mouse variable domains to retain the specificity (1, 2).
This was then taken a step further by grafting of the CDRs from a mouse antibody onto a human variable region framework, creating humanized antibodies (3). The crystal structures of rat and humanized antibodies later showed that an appropriately selected human scaffold correctly supports the orientation of the CDRs (4).
The speed of approval of this new wave of therapeutic antibodies was slower than expected due to the increase in regulatory burdens and it was not until 1996 that the FDA approved the first chimeric antibody ReoPro (abciximab), which lessons the risk of blood clots in patients with cardiovascular disease by binding to a receptor on platelets (5), and the first humanized antibody Zenapax (daclizumab) in 1997, which is an anti-CD25 antibody used to prevent organ transplant rejection (6).
The drive to reduce immunogenicity by decreasing the mouse content of monoclonal antibodies inevitably culminated in the creation of so-called fully human antibodies, which was made possible by the expression of isolated human variable domain genes in E. coli (7, 8). Two of the most widely used techniques developed for the production of fully human monoclonal antibodies are phage display, where a library of human antibodies is expressed on the surface of phage and subsequently selected and amplified in E. coli (9), and transgenic mice expressing a human antibody repertoire (10).
The image above shows a representation of mouse, chimeric, humanized and human antibodies. The chimeric, humanized and fully human monoclonal antibodies are much less immunogenic than the original mouse antibodies but human anti-antibody responses have still been noted in patients. These images are somewhat misrepresentative as immunoglobulin sequences are highly homologous across species, thus meaning a so-called fully mouse antibody is still relatively close in sequence to a fully-human one. Removal of the mouse constant domains clearly removed the most immunogenic portion of the antibody but it is argued by some that subsequent humanization has had little or no effect on the immunogenicity of therapeutic antibodies (11) and certainly only leads to marginal gains in sequence homology to a supposedly fully human antibody (12). More recent evidence suggests that while the effects of humanizing the variable domains are not as dramatic as the removal of mouse constant domains there is some reduction in the severity of the human anti-antibody response to humanized or fully human antibodies (13).
Antibody fragments
There are a range of applications in which Fc mediated effects are not required and are even undesirable. A common solution for applications where the antibody is only being used to block a signalling molecule or receptor is the use of antibody fragments that lack the Fc domain (1). This also helps to reduce the other main failure of therapeutic antibodies, namely the lack of delivery, which is especially true for anti-cancer antibodies. Solid tumours have substantial physical barriers often preventing the penetration of antibodies to the centre and resulting in reduced therapeutic effects (2). The use of smaller fragments enables deeper penetration with the affinity of the antibody also being critical and if it is too high this will restrict its ability to penetrate a tumour (3). Fragments are also useful in imaging and cancer therapy, where a long serum half-life mediated by Fc interaction with the FcRn receptor results in poor contrast and in the case of radiolabelled antibodies fast clearance from the circulation via the kidney is also advantageous to reduce prolonged exposure (4). Antibody fragments that have been engineered to be multimeric are of use when targeting multiple disease associated antigens. This approach and others will be described in more detail in the bispecifics section.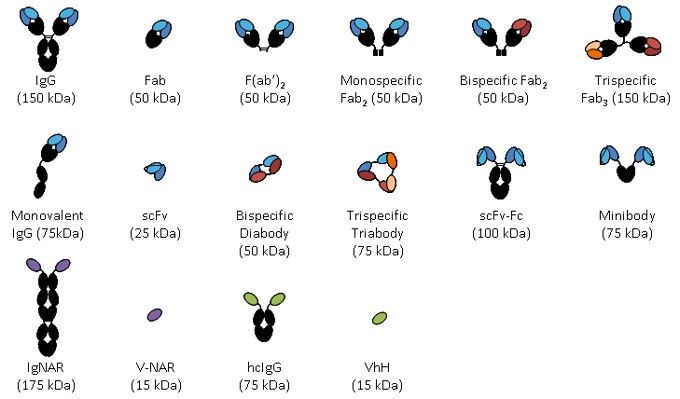 Figure. A selection of engineered antibody fragments.A schematic representation of different antibody formats showing the classical IgG molecule, camelid heavy chain IgG (hcIgG) and shark IgNAR alongside antibody fragments generated from these.
Over the past three decades antibodies have been dissected into smaller antigen binding fragments, initially by proteolysis and later by genetic engineering to produce mono or multivalent fragments. The image above shows a selection of the antibody fragments that have been engineered. These are mainly based on either Fab fragments or the single chain Fv (scFv) as building blocks. The Fv portion of an IgG, consisting of the VH and VL domains, is the smallest fragment that maintains the full binding capacity of the intact antibody. However, Fv domains tend to have limited stability due to the dissociation of the domains and thus a peptide linker was introduced between the VH and VL domains to create the scFv (5, 6). ScFvs naturally multimerise (7) and this can be controlled by linker length creating dimeric, trimer or tetrameric forms (8, 9). For this reason scFvs have become one of the main building blocks of antibody fragments.
When mouse single VH domains were shown to be functional (10) it was proposed that because of their small size they could potentially target cryptic epitopes that have evolved in many pathogenic viruses to contain narrow cavities that bind to target receptors but are poorly accessible to intact antibodies. However, they rarely retain the affinity of their parent antibody and are poorly soluble and prone to aggregation (10). Discovery of two types of organisms, the camelids and cartilaginous fish, that have evolved high affinity single variable domains (called the VhH domain in camelids (11) and the V-NAR domain in sharks (12)) mounted on an Fc equivalent constant domain framework resparked interest in this area. Both of these domains contain long CDR loops, often larger than those observed in conventional murine and human antibodies. Thus these are able to penetrate cavities in target antigens such as active sites (13) and canyons in viral and infectious disease biomarkers (14, 15) that may be inaccessible to the more planar binding associated with human or murine antibodies. At least two biotech companies have been founded on single domain antibody based technologies, Domantis (now part of GlaxoSmithKline) and Ablynx, with these molecules now starting to show promise in clinical trials (16).
To the best of our knowledge the smallest reported antibody fragment is a 3 kDa construct consisting of one CDR from the heavy chain and one from the light chain separated by a framework region (17). It was proposed that separation of two CDRs by a framework region would allow loops to assume conformation similar to that of the parental antibody. This was indeed shown to be true, although the constructs bound their antigen with only 1-10% of the affinity of the parent antibody as may have been expected given the reduced number of CDRs.
Despite the many advantages discussed above one of the main drawbacks of most antibody fragments for use as therapeutics is the lack of an Fc domain. This prevents FcRn-mediated recycling and thus infers a greatly reduced half-life, typically in the region of hours to days as opposed to weeks for a typical IgG. This has led to more recent efforts to either retain this natural property of IgG or reinstate it by further engineering. Examples of the former approach include the one-armed MetMAb developed by Genentech, which contains a heterodimeric Fc with only one Fab arm (18), or a monovalent IgG (also known as a half-antibody) developed in a number of different ways independently by Genmab (19), MedImmune (20), Pfizer (21) and the NIH (22). An example of the latter approach includes the use of engineered albumin binding domains fused to the antibody fragment to infer an albumin-like half-life (23)
A complete review of all antibody fragments in development is beyond the scope of this resource. For further information on antibody fragments we recommend reviews from Holliger and Hudson (1), Cuesta et al (24) and Nelson (25).
Fc engineering
Although overlooked by some as simply a structural backbone, the Fc domain is critical to the functioning of an antibody and has been the focus of many engineering efforts.
Increasing effector functions through Fc engineering
One of the most significant therapy areas for therapeutic antibodies is oncology, with more than 200 antibodies having passed through clinical testing (1). One of the key mechanisms of action for such antibodies is the targeted killing of tumour cells through recruitment of the immune system, which is achieved through interaction of the Fc domain with the complement component C1q or Fcγ receptors. However, many of these antibodies have failed in clinical trials due to insufficient efficacy (2). This has, therefore, lead to efforts to increase the potency of antibodies through enhancement of their ability to mediate cellular cytotoxicity functions such as antibody dependent cell mediated cytotoxicity (ADCC) and antibody dependent cell mediated phagocytosis (ADCP).
In particular efforts have focussed on increasing the affinity of the Fc domain for the low affinity receptor FcγIIIa. A number of mutations within the Fc domain have been identified that either directly or indirectly enhance binding of Fc receptors and through this significantly enhance cellular cytotoxicity (2-5). Researchers at Genentech identified the mutations S239D/A330L/I332E (dubbed 3M) (2, 3), MedImmune identified the mutation F243L (4) and Xencor identified G236A (5).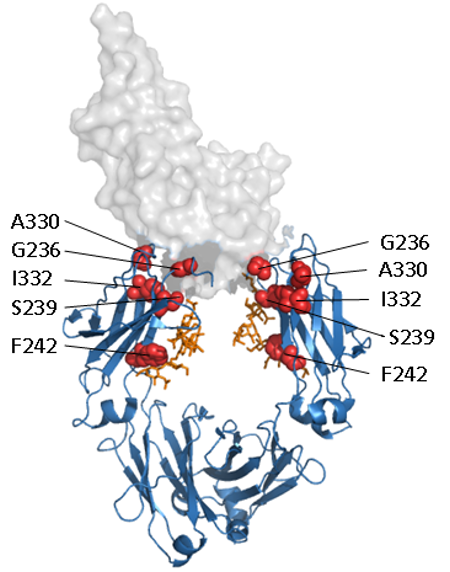 Figure. Enhancement of Fc effector functions.Structural representation of a human IgG1 Fc domain in complex with FcγRIII (PDB 1T83). The Fc domain is shown as a ribbon representation in blue, glycosylation in orange and FcγRIII as a transparent space filled model. A selection of the amino acids that have been targeted for enhancing Fc effector functions are shown as red spheres.
An alternative approach has focussed on glycosylation of the Fc domain. It is known that FcγRs interact with the carbohydrates on the CH2 domain and that the composition of these glycans has a substantial effect on effector function activity (6). Perhaps the best example of this is afucosylated (non-fucosylated) antibodies, which exhibit greatly enhanced ADCC activity through increased binding to FcγRIIIa (7-10).
Decreasing effector functions through Fc engineering
Activation of ADCC and CDC is often desirable for therapeutic antibodies but there are circumstances in which an antibody unable to activate effector functions is preferential. For these purposes IgG4 has commonly been used but this has fallen out of favour in recent years due the unique ability of this sub-class to undergo Fab-arm exchange, where heavy chains can be swapped between IgG4 in vivo (11, 12).
Fc engineering approaches have been used to determine the key interaction sites for the Fc domain with Fcγ receptors and C1q and then mutate these positions to reduce or abolish binding. Through alanine scanning Duncan and Winter first isolated the binding site of C1q to a region covering the hinge and upper CH2 of the Fc domain (13, 14). Researchers at Genmab identified mutants K322A, L234A and L235A, which in combination are sufficient to almost completely abolish FcγR and C1q binding (15). In a similar manner MedImmune later identified a set of three mutations, L234F/L235E/P331S (dubbed TM), which have a very similar effect (16).
An alternative approach is modification of the glycosylation on asparagine 297 of the Fc domain, which is known to be required for optimal FcR interaction. A loss of binding to FcRs has been observed in N297 point mutations (3, 17), enzymatically degylcosylated Fc domains (18), recombinantly expressed antibodies in the presence of a glycosylation inhibitor (19) and the expression of Fc domains in bacteria (20, 21).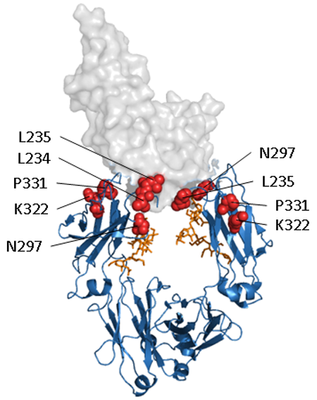 Figure. Abolishing Fc effector function.Structural representation of a human IgG1 Fc domain in complex with FcγRIII (PDB 1T83). The Fc domain is shown as a ribbon representation in blue, glycosylation in orange and FcγRIII as a transparent space filled model. A selection of the amino acids that have been targeted for abolishing interaction with Fc receptors are shown as red spheres.
Enhancing serum half-life of IgG through Fc engineering
IgG naturally persists for a prolonged period in the serum due to FcRn-mediated recycling, giving it a typical half-life of approximately 21 days. Despite this there have been a number of efforts to engineer the pH dependant interaction of the Fc domain with FcRn to increase affinity at pH 6.0 while retaining minimal binding at pH 7.4.
Researchers at PDL BioPharma identified the mutations T250Q/M428L, which resulted in an approximate 2-fold increase in IgG half-life in rhesus monkeys (22), and researchers at MedImmune have identified mutations M252Y/S254T/T256E (dubbed YTE), which resulted in an approximate 4-fold increase in IgG half-life in cynomolgus monkeys (23, 24). Whilst these enhancements are yet to be shown in humans it is hoped that significant increases to half-life will bring about the possibility of decreasing administration frequency whilst maintaining or improving efficacy.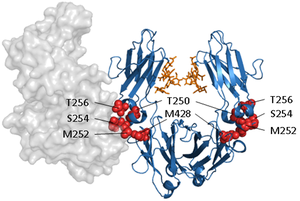 Figure. Enhancing FcRn interaction.Model of a human IgG1 Fc domain in complex with FcRn. The Fc domain is shown as a ribbon representation in blue, glycosylation in orange and the FcRn-B2M heterodimer as a transparent space filled model. A selection of the amino acids that have been targeted for enhancing pH dependant interaction with FcRn are shown as red spheres. Model produced from PDB accession numbers 1H3U and 1I1A.
Bispecific
Bispecifics are a class of engineered antibody and antibody-like proteins that, in contrast to 'regular' monospecific antibodies, combine two or more different specific antigen binding elements in a single construct. Since bispecific antibodies do not typically occur in nature, they are constructed either chemically or biologically, using techniques such as cell fusion or recombinant DNA technologies. The ability to bind two different epitopes with a single molecule offers a number of potential advantages. One approach is to use the specificity of one arm as a targeting site for individual molecules, cellular markers or organisms, such as bacteria and viruses. While the other arm functions as an effector site for the recruitment of effector cells or delivery of molecular payloads to the target, such as drugs, cytokines or toxins. Alternatively, bispecifics can be used to dual target, allowing detection or binding of a target cell type with much higher specificity than monospecific antibodies.
Over the past forty years a wide variety of multi-specific antibody formats, and techniques to produce them, have been developed. Driven, in part, by the need to be able to efficiently produce and purify multi-specific antibodies for use in the clinic, as well as to modify their functional properties. We will break these formats down into 5 main areas and discuss each in turn. It must be noted though that this only covers a sub-section of the many varied bi, tri and tetra-specific antibody formats that have been developed in one of the key antibody growth areas of the last 20 years.
Quadromas
Heterodimeric bispecific antibodies
Bispecific antibody fusions
Bispecific antibody fragments
Multi-specific antibodies
Quadromas
Arguably, the first bispecific antibodies – two conjugated antibodies of differing specificity – were described in 1961 (1), but it wasn't until after the advent of monoclonal antibodies in 1975 that interest in bispecific antibodies, especially as potential therapeutics, began to take off. Milstein, in 1983, went on to describe a method for producing bispecific antibodies through the somatic fusion of two hybridoma cell lines, forming a quadroma cell – sometimes referred to as a hybrid hybridoma – capable of secreting whole IgG antibodies with the binding characteristics of the two individual parental hybridomas in a single molecule (2). This process isn't flawless. Due to the random pairing of heavy and light chains in the quadroma a number of different miss-paired immunoglobulin species are produced, only one of which is the desired functional bispecific antibody. This is shown in the figure below. The desired functional bispecific antibody is only 12.5% of the theoretical population of antibodies making production of bispecific antibody in large quantities and to high purity very challenging. Despite this one bispecific antibody, catumaxomab (trade name Removab®) an anti-CD3 and EpCAM bispecific antibody (3), has reached clinical approval. Production was facilitatated by having one chain as a rat IgG2b and the other as mouse IgG2a causing species restricted pairing. Protein A purification with sequential pH elution enables separation of the different paired formats.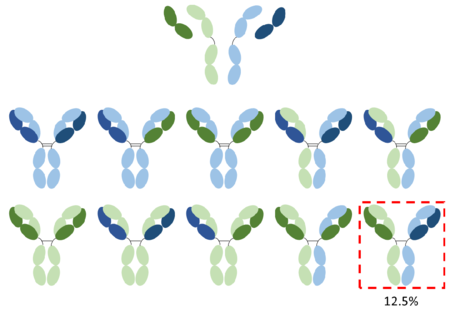 Figure 1. The chain association problem. Representation of the antibody combinations that can be produced by a quadroma cell line assuming random chain association. In total 16 formats are possible, of which six are identical. Six tetramers, including the desired bispecific antibody, occur twice (each with a yield of 12.5%) and four tetramers occur once (each with a yield of 6.25%).
In the last 20 years efforts have focused on recombinant DNA technology to enable engineering of antibody formats that minimise or completely avoid this chain association problem and the remainder of this section will focus on these.
Heterodimeric bispecific antibodies
When people refer to bispecific antibodies they are typically referring to heterodimeric antibodies, i.e. a traditional IgG molecule but with one arm targeting one antigen and the other are targeting a second antigen as shown in the figure below. These molecules are thus bispecific and monovalent.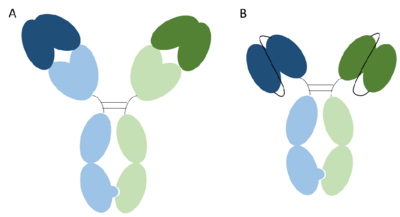 Figure 2. Heterodimeric bispecific antibodies. Image A shows a heterodimeric IgG and image B shows a heterodimeric scFv-Fc. One heavy chain and light chain pair is shown in blue and the other in green. The variable domains are shown in a darker shade. The Fc domain contains mutations that result in the preferential formation of heterodimer. Both formats shown are bispecific and monovalent.
The first bispecific antibody of this kind was described by Genentech (4). They created a "knobs-into-holes" antibody (often abbreviated as KiH) whereby a large amino acid on one chain was replaced with a small amino acid (mutation Y407T) and on the second chain a small amino acid was replaced with a large (mutation T366Y). This resulted in preferential formation of heterodimer. Further mutations were later reported by this group to enhance heterodimer formation further (5).
Subsequent attempts to generate heterodimeric bispecific antibodies have followed a similar approach. Amgen have created heterodimers by altering the charge of the Fc domain interface, or as they call it electrostatic steering (6). EMD Sereno have created SEEDbodies consisting of alternating human IgA and IgG beta strand sequences to generate asymmetric but complementary domains (7).
These approaches and many similar ones suffer from two main problems: i) light chain shuffling; and ii) homodimer formation. The aforementioned approaches address the issue of heavy chain association but it is also essential to ensure correct light chain association. If this is not addressed the light chains can pair with either heavy chain resulting in a mixture of species. This can be resolved by using antibodies that have been developed to have a common light chain (8) but in most situations this option is not available. The most successful engineering approach to resolve this problem has come from Roche with the development of CrossMab (9). In this format the VH-VL or CH1-CL domains are exchanged by domain crossover between the heavy and light chain Fab domains, resulting in preferential heterodimer formation.
Alternatively, the light chain shuffling problem can be removed completely by switching to a scFv-Fc format (Figure 2B). However, all of these approaches to force heterodimer formation still result in a varying amount of homodimer being present, which must be removed during purification. The amount of the preferred heterodimer varies from approach to approach but some mutations are claimed to result in >95% heterodimer. However, to achieve this care must be taken on ensure comparable expression levels between the two different chains.
A completely unrelated approach has been developed by Genmab and is based on the occurrence of Fab-arm exchange in IgG4s (10, 11). In this so-called Duobody approach two homodimeric antibodies are expressed individually and purified. Under redox conditions the two antibodies are then mixed together and pair into a heterodimeric antibody. As the light chains are already correctly paired this removes the light chain shuffling problem and reported levels of heterodimer formation are high.
Bispecific antibody fusions
In an effort to avoid the main manufacturing issues associated with heterodimeric bispecific antibodies (i.e. light chain shuffling and homodimer formation) groups have looked into IgG fusions. The direct genetic coupling of the desired variable domains in these formats avoids production of alternative shuffled variants but results in a non-standard IgG molecule which itself may cause manufacturing problems such as reduced expression levels or increased aggregation tendency.
Abbott have developed the dual variable domain antibodies (DVD-Ig) (12) with a very similar independent approach also taken by Sanofi to generate tetravalent bispecific tandem immunoglobulins (TBTI). In these formats an IgG is elongated at its N-terminus on the corresponding heavy and light chains by an additional variable domain of a second antibody (Figure 3A). Thus the resulting IgG molecule is a heterotetramer composed of two heavy and two light chains, with the variable domains orientated in a tandem configuration.
An alternative approach is the fusion of a scFv at the C-terminus of the antibody, thus generating a molecule that binds one antigen at the N-terminus of the molecule and a second antigen at the C-terminus (Figure 3B). In a similar manner a scFv-Fc-scFv format could also be engineered (Figure 3C). These formats are all bispecific and bivalent.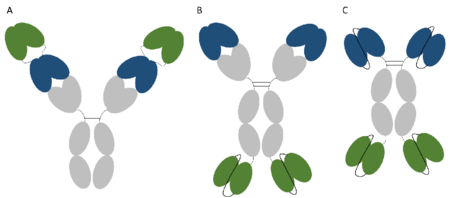 Figure 3. Bispecific antibody fusions. Representations of a dual variable domain antibody (A), an IgG-scFv (B) and a scFv-Fc-scFv (C). In each format one pair of variable domains is shown in blue and the second pair in green. All formats shown are bispecific and bivalent.
Bispecific antibody fragments
A whole zoo of multi-specific antibody fragments have been developed over the last 30 years. A small selection of these are shown on the antibody fragments section of this resource and many more are reviewed elsewhere (see 13-17).
Although numerous formats are currently in clinical development the only approved bispecific antibody fragment to date is blinatumomab (trade name Blincyto®) from Amgen. This is a bispecific T-cell engager or BiTE. BiTEs are constructed by genetic fusion of two single chain variable fragments (scFvs). Once scFv binds to CD3e on T-cells and the other binds to a surface molecule on the specific target cancer cells. Once bound to the target antigen on the cancer cell, binding of CD3 leads to activation and polyclonal expansion of cytotoxic T-cells ultimately resulting in lysis of tumour cells (18).
Multi-specific antibodies
As described in the bispecific antibody fragments section, a whole plethora of multi-specific antibody fragments exist. For the purpose of this section these will be ignored and only IgG-like multi-specific antibodies will be considered. Confusingly bispecific antibodies targeting two different antigens are sometimes referred to as trispecific if they also contain an Fc domain that interacts with Fc receptors. For the purpose of this resource we consider such antibodies to be bispecific.
As one would expect, multi-specific antibodies can be generated by any combination of the numerous technologies previously described to generate tri, tetra and penta specific antibodies with varying valencies. MedImmune have reported the use of an IgG with back-to-back scFvs at the C-terminus (19). Equally a format consisting of scFvs fused at either end of the IgG could be easily imagined.
Another approach to generating multi-specific antibodies comes from Zyngenia, with their Zybody platform. This technology incorporates antigen binding peptides at some or all of the N and C-termini of antibody heavy and light chains, resulting in up to five specificities (20).